About
This project has been suspended. Grant funding for this project was approved by the California Department of Water Resources to be reallocated to the Corte Madera Creek Flood Risk Management Project.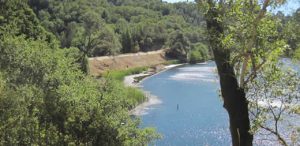 The Phoenix Lake Integrated Regional Watershed Management (IRWM) Retrofit project would modify the reservoir to allow it to serve as a detention basin. This would reduce downstream flood risk in lower Ross Valley resulting from creek overflow during storms. Other related benefits include:
Improved water quality in Phoenix Lake and Ross Creek
Opportunities for increased water supply
New recreational amenities
Phoenix Lake is owned and operated as a water supply reservoir by the Marin Municipal Water District. It is open to the public for hiking, mountain biking, fishing, and other recreational uses.
We completed the feasibility assessment phase for the project and in 2018 determined it to be infeasible within the project constraints, timeline and budget. Studies prepared include:
Collect soil samples from the earthen dam and determine what improvements to the dam might be needed.
Determine if the existing spillway and/or outlet pipe would need to be enlarged.
Examine how its use as a detention basin might affect its use as a water supply reservoir.
Measure the water quality in Ross Creek below Phoenix Lake.
Evaluate the existing ecosystem in Ross Creek below Phoenix Lake.
Propose operation procedures (called a Coordinated Operations Plan) to operate Phoenix Lake as both a detention basin and a water supply reservoir.
The study that evaluated what improvements are needed to the dam concluded that the cost and schedule of the improvements would not meet the requirements of the Proposition 1E grant.
Timeline
Status: Suspended
Funding
The project was awarded a Department of Water Resources Proposition 1E grant in 2011 for $7.6 million.
The total project cost estimate at the time of the grant award was $19.7 million.
Zone
Agencies and partners
Marin County Flood Control & Water Conservation District
Marin Municipal Water District