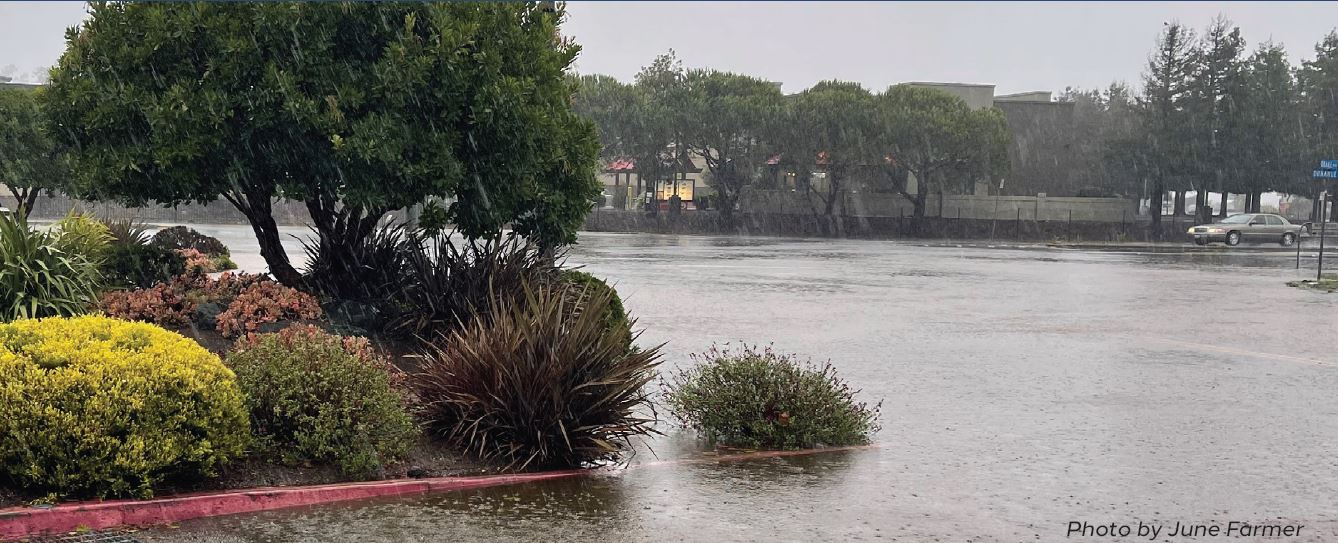 The Marin County Flood Control District is exploring options to reduce flood risk in Marin City and your help is needed to design a community-centered Stormwater plan.
During storm season and high tides, the Marin City neighborhood is regularly impacted by flooding tied to challenging drainage issues. This flooding may worsen and occur more frequently as climate change disrupts weather patterns, strengthens atmospheric river events, and raises sea levels. Marin County's Flood District and the Marin City community are collaborating to address these issues for the health and safety of the community. The Marin City Stormwater Plan aims to collectively develop a public stormwater infrastructure plan that will guide potential implementation of future projects and help to attract grant funding. Marin City community input will play a significant role in the development of this plan by sharing testimonies, ideas, visions, feedback, and priorities for improved infrastructure and other strategies to address flood events in ways that benefit the people of Marin City.
Join us on Thursday, June 1st at Martin Luther King Jr. Academy, (200 Phillips Drive, Marin City, CA) for a community meeting at 5:30PM followed by an optional walking tour at 6:15PM:
Learn about the Marin City Stormwater Plan that is being developed
Ask questions about existing flooding conditions
Share your thoughts about how to improve flood resilience in Marin City and any flood photos you may have
During the meeting, an optional walking tour will be held to identify flooding hotspots and allow community members to share their thoughts about how flooding impacts the community. This tour will focus on neighborhood flooding and the opportunities for improvement.
Refreshments will be provided.
To create the best plan to reduce flooding for Marin City, we need input from all community members! Nobody understands the needs of the community better than its residents. Please spread the word and plan to attend the community meeting—we can't do it without you.

For disability accommodations please phone (415) 473-6530 (Voice), CA Relay 711, or e-mail MarinCityStormwaterPlan@MarinCounty.org by 12:00 p.m. Friday May 26, 2023. Copies of documents are available in alternative formats, upon request.