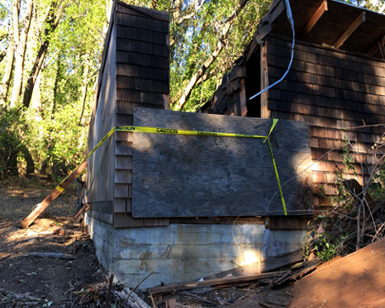 Excavation of the Fairfax flood control basin set to start in September
The Marin County Flood Control and Water Conservation District will begin excavating Sunnyside Basin near Fairfax in early September as part of the San Anselmo Flood Risk Reduction Project. The excavation and relocation of 20,000 cubic yards of earth is expected to take up to three months and cost approximately $1.2 million.
The San Anselmo project, which completed the environmental review process in 2018, is designed to improve public safety and reduce flood risk for residential and business properties along Fairfax and San Anselmo Creek in the Ross Valley, a region that has suffered significant damages from flood events for decades.
The eight acre Sunnyside Basin is a former nursery located at 3000 Sir Francis Drake Boulevard, about a mile northwest of downtown Fairfax. Ultimately the site will divert and store floodwater during the rainy seasons, and have a 33 acre-feet storage capacity that will significantly lessening flood risk to the historically impacted area.
The work at the basin will include clearing vegetation, demolition and removal of vacant residential and former nursery structures, excavation of approximately 4,000 cubic yards of topsoil and roadway gravel to be re-used on site and about 16,000 cubic yards of earthen material as well as related erosion control. The excavated material will be hauled off and may be repurposed at other locations.
The construction of Sunnyside Basin is one of three parts of the overall San Anselmo Project. The other parts include the removal of a building at 634-636 San Anselmo Avenue, part of which spans over San Anselmo Creek, and restoration of the creek bank next to the park. The street level structure was removed by the Town of San Anselmo in May 2020. The structure's foundation, which obstructs the creek's natural flow, will be extracted next year.
The Flood District has worked with the towns in the Ross Valley since 2016 to develop and analyze the flood control project. District staff sought input during 40 meetings with various community stakeholders, neighbors, public environmental impact report (EIR) scoping sessions, the Flood Control Zone 9 Advisory Board and the Fairfax and San Anselmo Town Councils. Feedback from these public engagement activities was considered and incorporated in the completed EIR[PDF].
The flood risk reduction project is being funded by an $8.7 million state grant from the Department of Water Resources and from Flood Control Zone 9 funds.