For Immediate Release –
San Rafael, CA –
Engagement is crucial element in identifying flood risk reduction solutions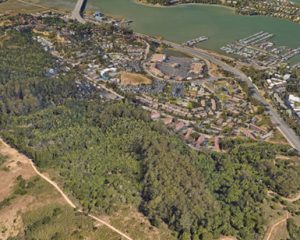 This spring, the Marin City community is invited to share its own ideas and first-hand experiences with flood control specialists tasked with reducing flood risk and related inconveniences for the area. During storm season and high tides, the unincorporated neighborhood near Richardson Bay is regularly impacted by flooding tied to challenging drainage issues.
The Marin County Flood Control and Water Conservation District is looking to maximize resident attendance and participation at community meetings as it begins work on its Marin City Stormwater Plan. The first of three community meetings is scheduled for June 1 at a location that has yet to be determined. Meeting information will be made available soon on the Marin Flood District website's project page.
Meanwhile, a local task force will assure that community interests and concerns are taken into account during the 18-month development of the stormwater plan. The task force was created in collaboration with the Marin City community and includes representatives from the Gateway Shopping Center (which manages the Marin City pond adjacent to southbound Highway 101), the Marin City Community Development Corporation, the Marin City Community Services District, the Sausalito Marin City School District, Caltrans, Coast Miwok Tribal Council of Marin, Federated Indians of Graton Rancheria, Floating Homes Association, the National Park Service Golden Gate National Recreation Area, Marin Water, and Marin County Parks. Residents representing upper and lower watershed property owners, local students, and young people have been invited to the task force as well.
There will be a total of five task force meetings and three community meetings over the 18-month process. The first task force meeting is scheduled for Monday, April 3. Outcomes of the task force meetings and community meetings will be posted on the District website's project page.
"Public safety and awareness are top priorities, so community engagement is key to the success of the stormwater plan," said Berenice Davidson, Assistant Director of Marin County Department of Public Works and the District. "The task force is going to ensure that community interests and concerns are being heard and that potential design options are in alignment with that community input. The heightened focus on community engagement is what makes this plan distinct from past studies. By community, we mean property owners, residents, nonprofits and public agencies; collaboration is crucial."
The geography of the watershed creates complex challenges for developing flood risk reduction measures. During storms, rainfall channels its way from the surrounding Marin Headlands into Marin City and out to Richardson Bay. The densely populated area was built upon wetlands and stormwater runoff can overwhelm the neighborhood's aging drainage system and lead to localized flooding, particularly when storms and high tides coincide. The flooding can slow or prevent first-responders from assisting people in need and limit residents from accessing essential goods and services.
The Marin City Stormwater Plan will build upon findings from several prior studies, addressing the locations where water flow is hampered, and recommend improvements that reduce flood risk, improve drainage, and maintain public access. Plan completion is targeted for summer 2024.
Once complete, the stormwater plan will provide detailed recommendations for potential projects that could then be implemented by local or state agencies. The plan would also be used as a basis for grant funding applications and associated environmental review requirements.
The estimated $785,000 cost of the plan is funded by the District's Flood Control Zone 3 (Richardson Bay) budget. The District plans to coordinate with Caltrans as it develops its sea level rise project for State Route 1 and U.S. Highway 101 between the Manzanita Park & Ride lot (owned by Caltrans) and Marin City.
For updates on the Marin City Comprehensive Stormwater Plan, please check the project webpage regularly for new information.
Contact:
Berenice Davidson
Assistant Director
Public Works
3501 Civic Center Drive.
#304
San Rafael, CA 94903