Development part of larger flood mitigation and public safety project near Fairfax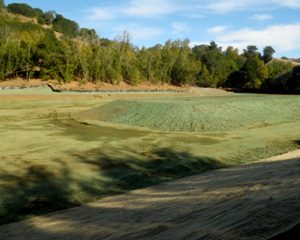 The final phase of the Marin County Flood Control and Water Conservation District's Sunnyside Flood Detention Basin project is expected to begin in August with a goal of improving public safety for properties along Fairfax Creek and San Anselmo Creek in the upper Ross Valley.
The Flood Control District Board of Supervisors will consider awarding a $3.88 million construction contract[PDF] at its July 27 meeting. The planned work follows the initial excavation of the basin, which was completed in November 2020.
The $6 million basin project, budgeted as part of the larger San Anselmo Flood Risk Reduction (SAFRR) project, is expected to be completed by late summer 2022. The basin, located at 3000 Sir Francis Drake Boulevard about a mile and a half from downtown Fairfax, is a key component of SAFRR. The project is funded by a California Department of Water Resources grant and Flood Control Zone 9 funds.
The upcoming phase includes excavation and removal of approximately 3,000 cubic yards of earthen material from the site. The phase includes creation of embankments such as berms and weirs, construction of basin outlet works including installation of dual outlet pipes with a flow control gate. An access road will also be constructed to allow for future maintenance needs of the basin.
The planned excavation work will affect traffic in the area for an extended period. It will require trucks to travel along Sir Francis Drake Boulevard frequently, similar to the summer 2020 excavation work but requiring far fewer truck trips. The project team is expected to notify the towns of Fairfax and San Anselmo of possible trucking impacts as well as provide traffic control measures for temporary or intermittent lane closures that might be required.
Once complete, the detention basin will hold stormwater runoff and allow excess accumulated water to passively flow back into the neighboring Fairfax Creek, reducing flood impacts to the downstream communities. Fairfax, San Anselmo, and Ross have long histories of costly flood damage during stormy winter months.
The next steps in the SAFRR project include removal of the concrete foundation at 634-636 San Anselmo Avenue and stabilization of the creek banks at that location. The Flood District will coordinate the removal of that foundation in conjunction with the Winship Bridge replacement[External] downstream in the Town of Ross.
Timing of the Flood District's work in downtown San Anselmo, as well as the subsequent creation of a public park at that location by the Town of San Anselmo, hinges on removal and reconstruction of the Winship Bridge and concurrent flood mitigation measures downstream to ensure no rise in flood water elevation. The overall timeline is delayed until 2023 due to federal funding shortfalls for Ross' bridge replacement project.