About
The District's Deer Island Basin Complex is located in the lower Novato Creek watershed. The proposed project area includes two stormwater ponds (Ducks Bill and Herons Beak) along the south side of Novato Creek as well as the Deer Island Basin on the north side of Novato Creek.
The goals of the Deer Island Basin Tidal Wetland Restoration Project are to:
Restore floodplain and tidal connectivity to diked historic tidal wetlands along Novato Creek, restoring tidal wetland habitats
Enhance ecological functions within baylands habitats along/adjacent to Novato Creek
Preserve and improve habitat conditions that support special status species known to occur, currently and/or historically, within Novato Creek and associated tidal marshes
Contribute to long term flood control goals and sea level rise resiliency for the lower Novato Creek Baylands
Protect critical infrastructure located within and adjacent to the project area by maintaining or increasing current levels of flood protection
Project map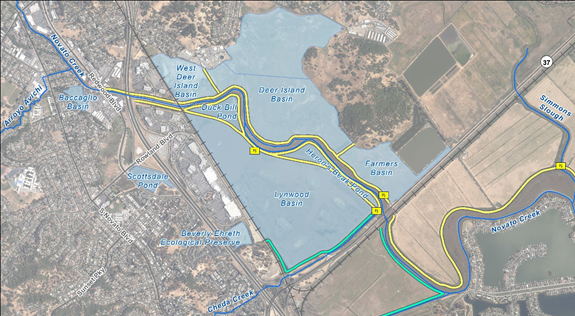 Timeline
Design alternatives and preliminary project costs are anticipated to be available in fall 2022. Design and environmental compliance, including CEQA and permitting, will be completed by summer 2023.
Status:
The project team is currently completing the Preliminary Design Report to produce 50% project designs. These designs will inform analysis of the project's impacts under CEQA and further refine project construction cost estimates.
Since 2021 the project team has actively consulted the San Francisco Bay Restoration Regulatory Integration Team. This included site tours with key regulators and multiple rounds of project design discussion and comment. Soliciting early input from regulators has been an asset to informing the project's permitting approach.
Funding
To-date, the District has secured $630,000 in Measure AA grant funding for this project. These grant funds cover project design, environmental review, and permit applications. In December 2021, the Marin County Board of Supervisors allocated $2,000,000 of American Rescue Plan Act funds toward the project construction.
Additional funding will need to be identified and secured for fully funding project construction, with cost estimates being refined under the current design process.
Zone
Agencies and partners
Marin County Flood Control and Water Conservation District
San Francisco Bay Restoration Authority
Environmental Science Associates
Contact
Roger Leventhal, Project Manager